Contributing to early detection of kidney disease at clinics
New release of a compact B4 size automated urine analyzer
ARKRAY, Inc. will release a compact automatic urine analysis system "
AutionIDaten AE-4070
"on Friday January 8, 2021.
In addition to the B4 size space-saving design, a urine test strip can be set facing either the left or right direction, giving you a high degree of freedom in the placement location. It can be installed in clinics where installation space is limited. In addition, the instrument is capable of offering of screening tests for early kidney disease and diabetic nephropathy
*1
, which are considered to have no subjective symptoms, thus contributing to early detection and the start of treatment initiation.
The automatic urine analyzer "AutionIDaten AE-4070" released by ARKRAY, Inc. (ARKRAY) is a urine analyzer that has improved usability by introducing a touch-screen while maintaining the superior basic performance of the existing model "Aution ELEVEN AE-4021".
By simply dipping a special urine test strip in a urine sample and setting it in the tray, the instrument automatically performs urine qualitative tests*2 measuring proteinuria, urinary sugar, occult blood etc. and discards the test strip. Automating the measurement process can eliminate some tasks including the time management and result judgment required in visual inspection, which leads to a reduction in the medical staff's burden and the prevention of judgment errors. In addition, among semi-automatic small compact analyzers that can measure the urine albumin/creatinine ratio*3, which is used as an index of diabetic nephropathy, this instrument has the highest processing capability with a capacity of 514 tests per hour.
The analyzer provides measurement result in terms of not only the qualitative rank such as "1+" and "-" but also the semi-quantitative value, which gives you a good idea of the component concentration that is close to a quantitative value. Another new feature is the "QC lockout" function, which suspends testing when quality control is not performed on a regular basis. This ensures that more reliable measurement results are reported. In addition, its space-saving design (equivalent to B4 size paper) makes it easy to install not only in hospitals but also in small facilities such as clinics.
Since successfully developing the world's first automated urine analysis system, which used urine test strips, in 1972, ARKRAY has provided fully automated qualitative urine analyzers, urine test strips and test data management systems to the market for more than 40 years. Going forward, we will continue to develop high-value-added products in the field of urinalysis, and provide new solutions that contribute to improving the efficiency of testing operations and the reliability of data.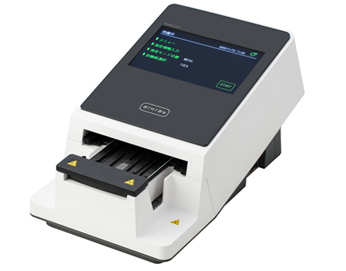 Product appearance

Product logo
Product features
○The P/C ratio and A/C ratio can be measured by means of creatinine correction.
The product can use a special test strip that allows calculation of both urine protein/creatinine ratio*4 and urine albumin/creatinine ratio at the same time. Through these features, quick and simple screening tests can be conducted for ailments such as Chronic Kidney Disease (CKD)*5, which include diabetic nephropathy. As a result, the instrument can serve as a useful tool for the risk management of the onset of kidney failure.
○Touch-screen display
The 7-inch color LCD display with a touch-screen provides enhanced visibility and operability.
○Shortened start-up time. Measurement can be performed at 7 second intervals.
The start-up time was shortened to be half of the current model's (AE-4021) start-up time, allowing you to start testing quickly. In addition, continuous measurement at 7 second intervals will prevent samples from piling up even during the busiest of times.
○Addition of the QC lockout and operator lockout functions
The analyzer is equipped with a function that does not allow sample measurement If quality control measurement, which should be performed before and after the use, has not been performed by the set deadline, helping users always obtain accurate measurement results.
○Pursuing usability
By pursuing ease of use, the instrument features an auto start function, which automatically commences measurement once the test strips are simply set in the tray, and a left & right position function that allows for test strips to be set on either of the left and right sides.

○Possible to input turbidity
It is possible to input 'turbidity' which displays the level of cloudiness of the urine. The instrument can also be effectively used as a back-up for a fully automatic urine qualitative testing analyzer.
Terminology
*1 Diabetic nephropathy
A microvascular complication that occurs when chronic hyperglycemia persists over time. Clinically proteinuria (microalbuminuria in the initial stage), renal dysfunction, high blood pressure and edema are exhibited, and ultimately results in kidney failure.
*2 Qualitative urine testing
Provisional examination using urine test strips to test for the presence of proteinuria, urinary sugar and occult blood. Semiquantitative testing is to test for the approximate amount of components contained in urine, while quantitative testing is to test for the accurate amount.
*3 Urine albumin/creatinine ratio (Alb/Cre ratio)
An indicator that employs the ratio of the microalbumin and creatinine concentrations in urine, which are simultaneously measured. It is used as an indicator for diabetic nephropathy.
*4 Urine protein/creatinine ratio (Pro/Cre ratio)
An indicator that employs the ratio of the protein and creatinine concentrations in urine, which are simultaneously measured. It is used as an indicator for kidney function.
*5 Chronic Kidney Disease (CKD)
It is a disease, in which renal disorders and decreased renal function continue, and is closely associated with lifestyle-related diseases such as arteriosclerosis, high blood pressure, and diabetes, which poses risks like myocardial infarction, stroke, and heart failure.
(From the website of "Chronic Kidney Disease" and "Evidence-based Clinical Practice Guideline for CKD 2018" (Japanese Society of Nephrology))
Product Overview
Name
Automatic urine analyzer "AutionIDaten AE-4070"
Release date
January 8, 2021 (Friday)
Specifications
   Sample
Urine
   Measurement items
Glu (Glucose), Pro (Protein), Bil (Bilirubin), Uro (Urobilinogen), Ket (Ketones), pH, Nit (Nitrite), Bld (Occult blood), Leu (Leukocytes), Specific Gravity, Color tone, Alb (Albumin), Cre (Creatinine), (Calculated items: Alb/Cre ratio, Pro/Cre ratio)
   Measurement wavelength
4-wavelength LED (430, 565, 635, 760 nm)
   Measurement principle
Items measured with test strip: Dual-wavelength reflection photometric method (single wavelength for Bld)
Color tone: Measurement of reflectance with calibration pad
   Test strip
Aution Sticks (10PA, 10EA, 9EA, 8EA, 7EA, 6EA, 5EA, 4EA)
Aution SCREEN Microalbumin/Creatinine
Uriflet S 11UA
   Reaction time
Approximately 1 minute
   Processing speed
514 tests per hour (7-second interval)
   Memory capacity
520 measurement results
   Display
7-inch color touchscreen-mounted LCD
   Printer
Thermal printer (58 mm width)
   External output
RS-232C, Ethernet (optional)
   Operating environment
Temperature: 10 to 30°C, humidity: 20 to 80% (no condensation)
   Measurement environment
Temperature: 10 to 30°C, humidity: 30 to 60% (no condensation) *Temperature correction function used
   Power supply
AC100 - 240 V, Adapter type (universal adapter)
   Power consumption
60 VA
   Barcode
External hand-held type (Barcode reader terminal specification)
   Dimensions
206 (W) ×365 (D) ×180 (H) mm
   Weight
5.0 kg
Sale price
Recommended delivery price: 980,000 yen (before tax)
Registration number
25B1X00001000060
Medical device certification number/category
Class I (general medical devices)/Specific Maintenance Medical Device
The information presented in this release is limited to Japan as of the time of its announcement.